M7 Plus
Portable Color Doppler Ultrasound Scanner

M7 Plus Latest Portable Color Doppler ultrasound scanner, independent researched and produced by Promed. With New technology, reliable operation experience, clean image resolution, M7 Plus has a premium performance in abdomen, OB/GY, small parts, artery, MSK, vascular, etc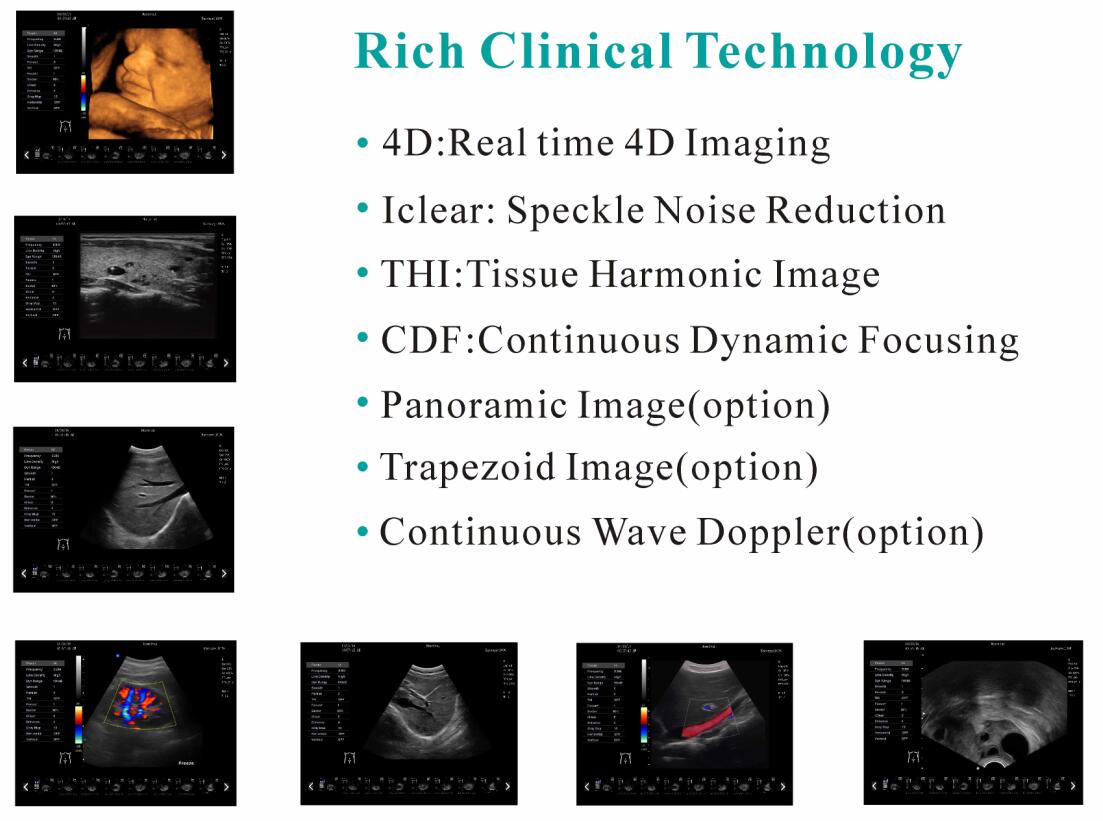 Application:
▶ High resolution LED medical monitor
▶ Net weight of main unit : 6.5 kg
▶ Two active probe Sockets
▶ Kinds of probes for choose
▶ Display Mode: B, CF, M, B/M, PW
▶ Pseudo: change the gray level image to color image, makes the users distinguish the different organ issue.
▶THI - Tissue Harmonic Imaging
▶ Izoom - Instant full screen zoom
▶ Application: Normal, ABD, OB, Pelvic, Urology, Cardiac, Small Parts, MSK.
▶ Abundant peripheral interface, such as USB, video, S-video, VGA port, LAN,VGA etc.

Product Features of animal ultrasound machine :

1. High resolution medical LED monitor;

2. Light weigh design, the net weight is 6.5KG, easy to take;

3. Built-in floating standard keyboard and backlit keyboard design;

4. Unique design for power key and reset key;

5. Based on PC platform, have abundant peripheral, can upgrade the system according to the customer requirement and be compatible with a various of printers;

6. Multi-language software for choose (Chinese, English, Spanish, Russian, Persian and French);

7. Friendly user's operation interface;

8. Crystal clear 2D image and sensitive Color Doppler blood flow imaging system ;

9.Built-in large capacity rechargeable Li-ion battery, standby time is up to 2 hours;

10.Built-in SSD (Solid State Disc) improves the stability and reading speed;

11.Can be matched with several kinds of probes (such as convex probe, linear probe, transvaginal probe, phased array probe…);

12.Can be updated to 4D (option);

13.Support remote wireless image transmission, based on PC platform and ANDROID system (option)

Product Applications of animal ultrasound machine:

1.Abdomen, Obstetrics, Gynecology, Pediatrics, Small parts, Artery, Superficial

2.organ,Orthopedics, Cardiology, Musculoskeletal, Vascular, etc.

Product Technicial Data of animal ultrasound machine:
Product Displaying mode:

B,B/B,4B,B/M,M,PW,B/C,B/C/D,B/D, duplex, triplex, CFM,4D

Product Signal processing:
Full-digital beam forming, dynamic filter, dynamic real time receiving focusing, RDA, spectral processing, CFM processing,
real-time dynamic focusing, dynamic aperture in all fields
Product Image processing:

THI

PSHI TM broadband multi-frequency harmonic image

Speckle-reduction

Power adjustable

Smoothing function

iBeam TM intelligent space image technology

iZoom TM undistorted full screen image

Free Xros M

Engineer control technology with low power consumption

Edge enhancement Image optimizing disposal

One-key optimization

Image conversion

Doppler Sound output volume adjustable

Wall filter adjustable

Base line adjustable

Sampling frame adjustable

Spectrum sampling volume adjustable

Spectrum sampling volume angle adjustable

PRF adjustable

Product General measurement

B mode-distance, circumference, area, volume, angle, area Red, Diam Red M mode- distance, time, velocity, heart rate

Product Abdomen
measurement

Liver, GB, Aorta, GBWT, CBD, Portal Vein, Spleen

Product OB packages

EDD table :GS ,BPD, CRL,FL,YS,TAD,LV,OFD,NT,AC,HC, APAD, Cxlength.

Product Gynecological packages
Uterine measurement (Uterine diameter, uterine endometrial); left/right ovary measurement; left/right sacculus measurement;
Cervix; Uterine depth
Product Urology packages

Left/right kidney measurement, Volume, Cortex

Product Small parts Measurement

Left/ right thyroid, volume, Isthnus and calculating report

Product Cardiac Measurement Package

Heart rate, Valve speed, LV, aortic, mitral, ventricular

Product Skeletal & Muscles

Skeletal & Muscles, distance, area, Hip angle

Product Vascular

Senosis D, senosis A, Lt/Rt VVA, Lt/Rt Rulb, Lt/Rt ICA

Product Scanning depth

300mm

Product Body mark

Abdominal ,Cardiology, Gynecology, Obstetrics, Small parts

Product Cine loop

Automatically & manually, speed control

Product Image storage format

BMP, JPEG, PNG

Product Input/output ports

VGA, USB port, DICOM port

Product Standard Configuration

Main unit, 12 inch LED monitor, 3.5Mhz convex probe, 7.5Mhz linear probe,2 probe connectors, hard disk, battery, DICOM 3.0

Product Options
6.5Mhz transvaginal probe, 3.5Mhz micro-convex probe, 3.5Mhz phased array probe, 4D volume probe, trolley, USB laser printer and
Video printer
Product Dimension:

1.Gross dimension: 510 mm X 500 mm X 330mm

2. Net dimension: 330mm X 150 mm X 380mm

Product Weight:

1.Gross weight : 12 kg

2.Net weight : 7 kg

Product Power Requirements:

1.Voltage: AC 100V to 240V

2. Frequency: 47~63Hz

3. Rated Power: ≤120VA

Product Operation Conditions:

1.Ambient temperature: 0℃to +40℃

2.Relative humidity: 38% to 85%

3.Atmospheric Pressure: 700hPa to 1060hPa

Product Standard Accessories

1.Power Cable

2.Operation Manual

3.System Recovery U Disc

4.Built in Li-ion battery

Product Optional Accessories

1.B/W or color video printer

2.Laserjet or inkjet printer

3.Trolley

4.Aluminum case

5.Biposy guide