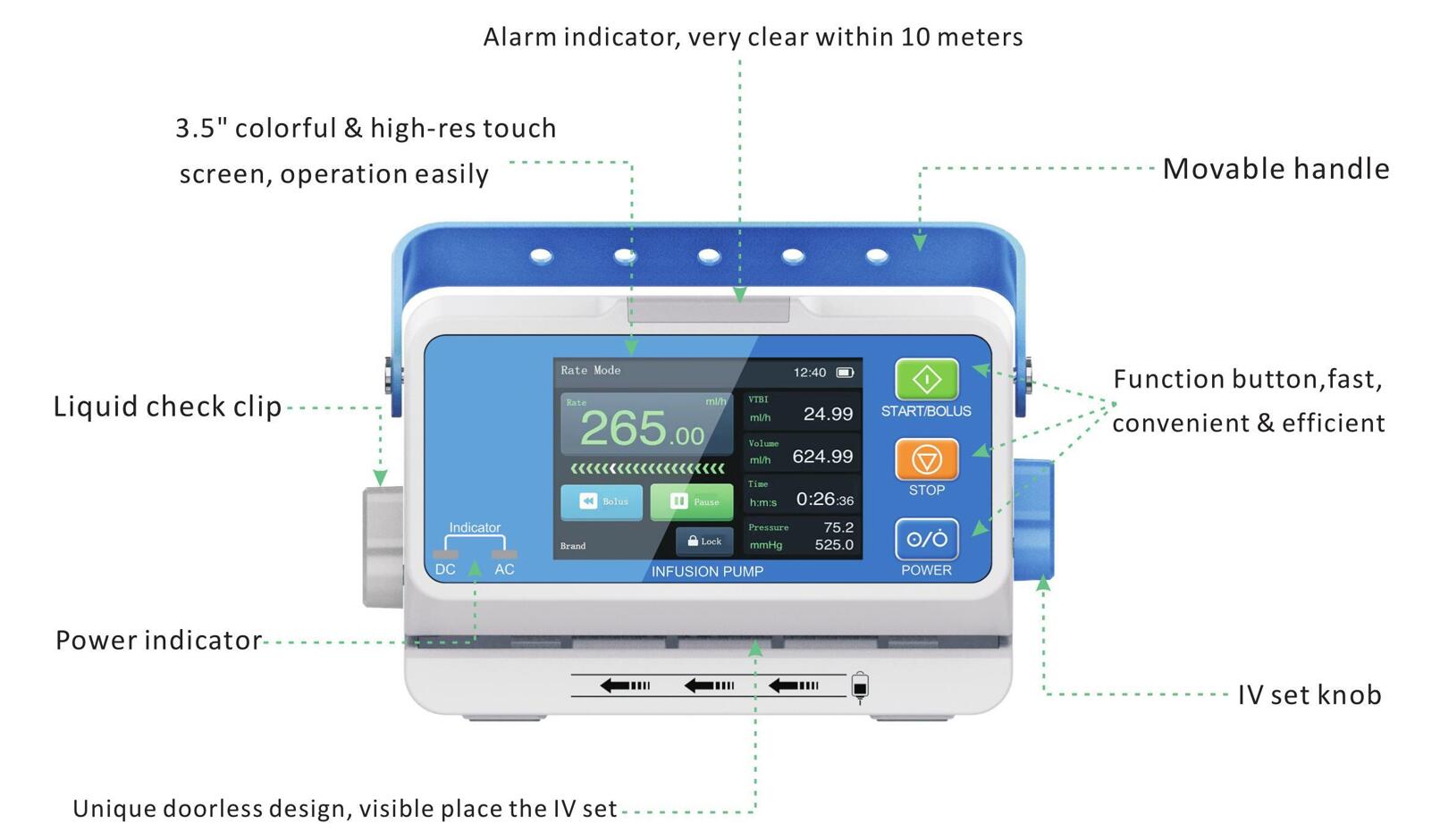 Main features:
1) 3.5" colorful touch screen, easy to operate with human-computer interface.
2) Unique doorless design, visible place the IV set directly, convenient and quick. Dual CPU control.
3) IP34 dustproof and waterproof design. AC/DC power, Larger battery, long working time.
4) Reduce the bubbles error alarm because horizontal place the IV set design.
5) Very Light weight only 1.3 KG, small and exquisite, convenient to carry and transport.
6) DPS dynamic pressure monitoring, real-time display of the current pressure value.
7) Infusion Mode : Rate Mode/Time Mode/Weight Mode/Sequential Mode / Drip Setting.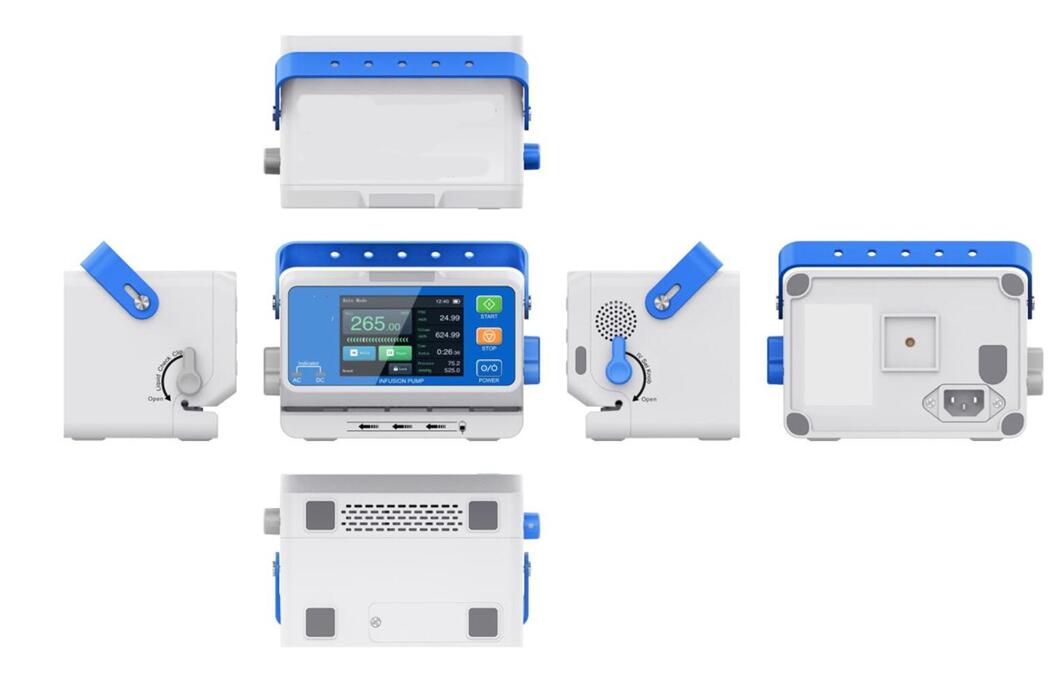 Technical specification:
Size: L165 × W103 × H100mm.
Weight: 1.3kg.
Power: 100~240V,
External DC Power: 12V~15V
Battery: 3000mAh, working 10 hours in 25ml/h speed.
Double CPU. IP34warterproof / dustproof/shockproof.
Flow Rate range: 0.1~2000.00ml/h, increment 0.01ml/h.
VTBI: 0.1-9999.99ml,
Time: 1s-99h59min.
KVO: 0.1~5.0ml/h, increment 0.1ml/h. Drug library: 34 units.
Accuracy: ±5% (use the IV set calibrated).
Purge: 0.1-2000ml/h.
Bolus rate: 0.1~2000ml/h, Automatic/Manual bolus available
Anti-bolus: Automatically reduce the tube pressure when the tube is blocked.
Bubble size: Adjustable 50/100/250/500/800μl.
Auto calculate the accumulation bubbles during infusion. Ultrasonic detection.
Occlusion pressure : Adjustable Low /Medium /High.Double Pressure detection
History Record: 2000 above.
Night mode: setting and adjustable.
Temperature:-20℃-55℃,Relative humidity:10%-95%,
Atmospheric pressure: 40~120Kpa.
Alarm: Air in Line /Exceed Accum. Bubbles/ Downstream Occlusion /[Pls Install the IV set correctly
/Time Near End/Reminder/Low Battery/No Battery/No Battery Inserted/IV set or Knob is not Installed Well/System Error/KVO Finished/VTBI Completed/Upstream Occlusion/No AC Power/Pls check the Liquid Check Clip/Air in Line or right IV set is not Installed Well/ Standby Time Expired/The IV set Knob is not Closed.
Infusion Mode : Rate Mode/Time Mode/Weight Mode/Sequential Mode / Drip Setting.
IV Set: Dia3-4.8mm. 2 built-in brand for choice, and can User defined with calibration methods, and can change or add the IV set brand name for 30 pcs.